Oktyabrsky district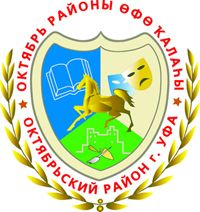 Oktyabrsky district was established on March 23rd 1977. It occupies the territory of 9,1 thousand ha, the population comprises over 238 thousand people.
The district also includes Nagaevo, Zinino and Zhilino settlements.
Oktyabrsky district is one of the youngest and most developed districts of Ufa city. New residential areas and public facilities are being built, transport infrastructure is being improved. A lot of work is being done in the sphere of education, sports and culture, the issues of healthcare and redevelopment are being resolved.
Oktyabrsky district is kind of a territorial center and transport junction of the city which connects south (administrative) and north (industrial) parts of Ufa.
Modern and high-technology products of such enterprises as OAO (joint stock company) "Ufa Promsvyaz enterprise", "Ufa instrumentation manufacturing industry", state unitary enterprise "Medtechnika", OOO (LLC) "ESM", Ufa plywood mill OAO "Lesoholdingovaya company", ZAO (close joint stock company) Poliedron might be competitive not only in Russia but in the international market as well.
The district became popular also due to its cultural and sports facilities: Russian Academic Drama Theatre of the Republic of Bashkortostan, Ufa State Tatar Theatre, Ufa Circus, modern multiplex cinema "Planeta kino" IMAX, cultural and recreational park n.a. Mazhit Gafuri, recreational park Kashkadan, "Sports Palace" and "Akbuzat" race track.
There are over 10 thousand small business entities in different sectors. 1400 trade, food and public enterprises render their services to citizens.
There are 24 comprehensive schools and 39 kinder gardens in the territory of the district with a total amount of 29800 children.
Oktyabrsky district is a territory of youth, future which continues expanding. The key point of development of Oktyabrsky district are the citizens who contribute to prosperity and success of their district.
Contacts:
450096, Ufa, Komsomolskaya Street, 142/1
Tel./Fax: 237-47-97
E-mail: oktadm@ufacity.info